Underwood Update - January 2018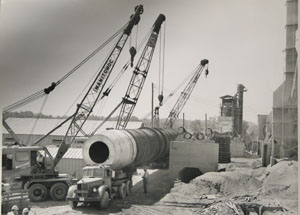 What is Rigging?
Happy New Year from everyone at Underwood Machinery Transport. We are starting out the new year with the first publication of the newly established Underwood Update. This blog will be published every month covering various topics in the rigging world. Feel free to write in with questions or comments to bnewey@underwoodcompanies.com
Our first topic is a question that I have been asked by my peers ever since I started at Underwood a short time ago. That question is: What is rigging? I'm embarrassed to say that even after I was hired on to Underwood I still was not quite sure. Being new to the industry I sometimes still have a hard time describing it to my friends and relatives who ask me about my job.
With some quick internet research, you can find rigging various definitions for rigging in regards to machinery moving. Rigging is both a noun, the rigging tools (i.e. shackles, hooks, chains, straps), and a verb, the action of handling, moving and installing machines and equipment.
Even this definition barely scratches the surface of what the term rigging covers in our industry. It is also a way of life for many of the dedicated employees at Underwood. I have seen first-hand the pride riggers and millwrights take in doing the job efficiently and safely. A lot is at stake when moving a 60,000 plus pound machine. The safety of our riggers and equipment is at the top of the list.
Needless to say, this can be a hard concept to grasp with no prior experience. It can also be a daunting task to someone needing rigging services, but and does not know where to start. Fear not, Underwood is here to help.
I hope you have enjoyed the first installment of the Underwood Blog. Be sure to let us know your thoughts or even if you have a completely different definition of rigging as we would love to hear from you. Stay tuned for our next blog, which covers another common question of "Can't I Just Rent a Fork Truck and do It Myself?"